I didn't know they were or had relased this expansion untill I recieved my newest edition of the Neopets Offical Magazine in the mail over the weekend. Here's what info I've found on it:

The latest addition to the increasingly popular Neopets trading card game-Travels in Neopia™-lets fans relive all the thrilling adventures and remember all your favorite characters from every corner of Neopia. The 196-card set features all kinds of items, equipment, weapons, and other fun mementos-including every Neopet species in the world. With aVirtual Prize Code in every 8-card booster pack,collectors and players alike have even more reasons to expand their growing collections of Neopets trading cards.

1. The Travels in Neopia set features a rich history of cards from past Neopets Trading Card Game (TCG) expansions conveniently packaged in one set.
2. Customers can relieveall the favorite places the TCG has been and theplots that have unfolded throughout Neopia. Includes fans' favorite cards from popular sets such as Mystery Island, Return of Dr. Sloth, Lost Desert and more.
3. Travels in Neopia is a 196-card set with all the artwork created exclusively for the TCG. Includes cards for every Neopetsspecies in Neopia.
4. New Virtual PrizeCode card included in every booster pack.

Pictures under cut.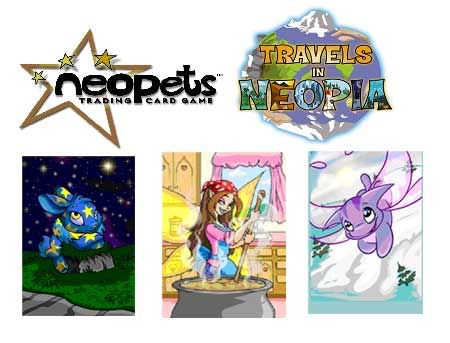 I still can't find a whole lot of info on this other then the fact that it's suppose to be out this month. (might already be for all I know). If anyone has anymore info, feel free to share.

[EDIT] I'm gonna list what cards it has listed in the magazine as a preview.


1/200 Bag of Neopoints (R)(Holo)
2/200Caylis (R)(Holo)
3/200 Cloud Shoyru (R)(Holo)
4/200 Darigan Paint Brush (R)(Holo)
5/200 Dr. Sloth (R)(Holo)
6/200 Eithne (R)(Holo)
7/200 Faerie Poogle (R)(Holo)
8/200 Faerie Slorg (R)(Holo)
9/200 Faerieland (R)(Holo)
10/200 Fyora's Wand (R)(Holo)
11/200 Hannah the Cursed (R)(Holo)
12/200 Hubrid Nox (R)(Holo)
13/200 Illusen's Staff (R)(Holo)
14/200 Island Angelpuss (R)(Holo)
15/200 Island Paintbrush (R)(Holo)
16/200 Jhudora (R)(Holo)
17/200 Lost Desert Paint Brush (R)(Holo)
18/200 Malevolent Sentient Poogle Plushie (R)(Holo)
19/200 Maraquan Paint Brush (R)(Holo)
20/200 Maraquan Scorchio (R)(Holo)
21/200 Meepit (R)(Holo)
22/200 Nereid the Water Faerie (R)(Holo)
23/200 Nuria (R)(Holo)
24/200 Ona (R)(Holo)
25/200 Princess Amira (R)(Holo)
26/200 Rainbow Paint Brush (R)(Holo)
27/200 Sakhmet City (R)(Holo)
28/200 Snow Bruce (R)(Holo)
29/200 Snow Paint Brush (R)(Holo)
30/200 Snowickle (R)(Holo)
31/200 Sophie the Swamp Witch (R)(Holo)
32/200 Space Faerie (R)(Holo)
33/200 Starry Cybunny (R)(Holo)
34/200 Starry Paint Brush (R)(Holo)
35/200 Taelia the Snow Faerie (R)(Holo)
36/200 Tura-Kepek (R)(Holo)
37/200 White Hasee (R)(Holo)
38/200 Ylana Skyfire (R)(Holo)
39/200 Zafara Princess (R)(Holo)
40/200 Zed Codestone (R)(Holo)
41/200 Galactic Green Grundo (R)
42/200 Green Draik (R)
43/200 Green kacheek (R)
44/200 Red Bori (R)
45/200 Red Krawk (R)
46/200 Red Lupe (R)
47/200 Yellow Kyrii (R)
48/200 Yellow Meerca (R)
49/200 Yellow Ruki (R)
50/200 Acara treasure Seeker (R)
51/200 Aisha Shopkeeper (R)
52/200 Banishment (R)
53/200 Battle JubJub (R)
54/200 Blue Sticky Hand (R)
55/200 Dark Faerie Sisters (R)
56/200 Eliv Thade (R)
57/200 Faerie Dust (R)
58/200 Ghost Korbat (R)
59/200 Ghost Snowbunny (R)
60/200 Illusen's Ring (R)
61/200 Invisible Doglefox (R)
62/200 Invisible Mynci (R)
63/200 Ixi Courtier (R)
64/200 Jeran Plushie (R)
65/200 Jerdana (R)
66/200 Jerdana's Orb (R)
67/200 Jhudora's Storm (R)
68/200 Kacheek Thief (R)
69/200 Kreludor (R)
70/200 Lucky Coin (R)